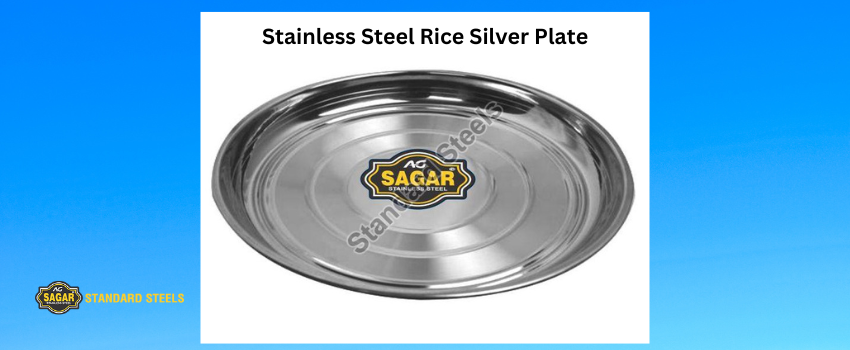 It has long been a custom for Indian families to enjoy their lunch and supper gatherings with their loved ones. But in every home, steel plates—not elegant dinnerware are the star of any significant event or occasion that is hosted at home.

When any handmade meal is served on a steel plate, it feels like home and takes you back to your roots. Stainless steel plates and crockery produced by a stainless steel rice silver plate manufacturer are an essential part of Indian families.
These dinner steel plates are simple to use, clean, and store. They also offer a durable defence against corrosion, scratches, and stains. These steel plates offer outstanding usefulness and great value for the money in addition to an emotional connection.


The Advantages of Stainless Steel Plates for Your Health and Budget
Steel plates are commonly used for meals in the majority of Indian families. These steel plates are available in a variety of forms, sizes, and designs. Steel dinner sets composed of durable stainless steel are available on the market. Eating food on a steel plate offers several financial advantages in addition to being long-lasting and healthy.


Stainless Steel Plates Are Robust And Unbreakable
You are probably aware of shattering dishes or bowls if you live with children or other clumsy family members. Utilising a steel plate in this situation is a great option because they are durable and difficult to break. As a result, you even save a tonne of money and have few heartbreaks because the dining set is not damaged.


Rust-Free Stainless Steel Plates
Due to its longevity and place in Indian custom, stainless steel dinner plates offered by a stainless steel rice silver plate supplier may be handed down down the generations. Set steel plates that don't rust and keep their brightness. This is a time-honoured justification for including these gorgeous things in our kitchen. Every time we clean them, they appear brand-new and gleam with a dazzling sheen.


Easy to Clean Stainless Steel Plates Set
There is no doubt that dinner steel plates are simple to keep clean. The surface of stainless steel doesn't retain food. Stainless steel dinnerware is a great option for larger households and is widely accessible at retail stores and online retailers around the nation.


Cleaning these dining sets becomes a chore when we use glass, ceramic, or plastic plates. You must handle them with utmost caution. They vanish with only one slip. Steel plates are lighter, so it doesn't matter if they are stored over other utensils or on the side of the sink.


Use of Stainless Steel Plates Is Safe
Dinner plates made of steel are secure for serving food, unlike those made of plastic or melamine. The flavour, taste, or nutrition of food are unaffected negatively by this substance. The fact that there is no room for dirt or dust to accumulate is another amazing feature.
Stainless Steel Rice Silver Plate comes in a variety of bundles, with the number of components needed depending on the size of the household. Give your loved ones stainless steel plates this holiday season. They'll adore it for sure.