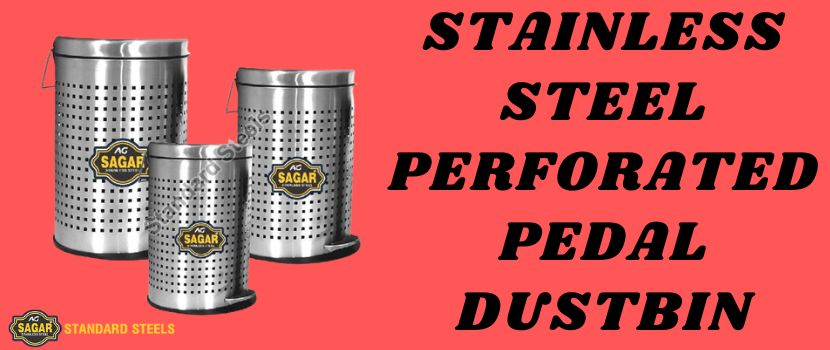 A trash can is a container used for discarding trash. It is sometimes referred to as a waste bin or garbage can. For simple disposal when the trash can is full, the majority are made of plastic or stainless steel and utilized with plastic bags. Containers called trash cans are used to store filth and grime that are a part of daily living.
Most trash cans have lids to keep the odour of the rubbish from escaping, and some of them have foot pedals to open them. Typically, household trash bins are placed in the kitchen for convenient kitchen waste disposal. Some homes place one in each of the main rooms, while some public garbage cans are built differently depending on the setting.
Advantages of Stainless Steel Pedal Garbage Cans
The majority of trash cans used on city streets are made of stainless steel because of their many advantages in everyday use. The widespread use of stainless steel trash cans is a result of both their practical benefits and personal advantages. Let's examine each benefit of stainless steel trash cans individually. You might wish to buy one of these garbage cans after learning about their benefits.
· The durability of stainless steel is one of its benefits. Trash cans made of stainless steel are the strongest available, and despite being bent, they can still be utilized. When it comes to street use, they have an advantage over plastic trash cans because collisions are frequent on the streets. The SS pedal dustbin supplier provides quality products that are made with the finest raw materials.
· Durability is another benefit of stainless steel trash cans. Stainless steel is a substance that resists corrosion and has a long lifespan. Anti-corrosion paint is applied to the trash can's surface during production. Stainless steel typically does not rust and has a relatively long lifespan as long as the surface coating is not affected. Garbage cans made of stainless steel last longer than those made of other materials.
· The great malleability of stainless steel trash cans is its third benefit. Trash cans can be built from stainless steel since they can be customized to meet specific needs. This production flexibility is lacking in other materials. For instance, garbage cans made of plastic and wood are less malleable than those made of stainless steel.
· The stainless steel dustbins are long-lasting. One will last for at least 5 to 10 years. It is one of the most cost-effective things to add to your office, house, etc.
· The ease of cleaning is the fourth benefit of stainless steel trash cans. Cleaning becomes challenging if dirt gets inside wooden trash cans. However, the surface of stainless steel trash cans is painted with a protective coating, making them simple to clean. They may still seem brand new after cleaning.
These are some of the benefits of choosing stainless steel dustbins. Make sure that you choose to deal with the right SS pedal dustbin supplier and get the best bins for your use. Dealing with the best suppliers will help you enjoy amazing benefits.