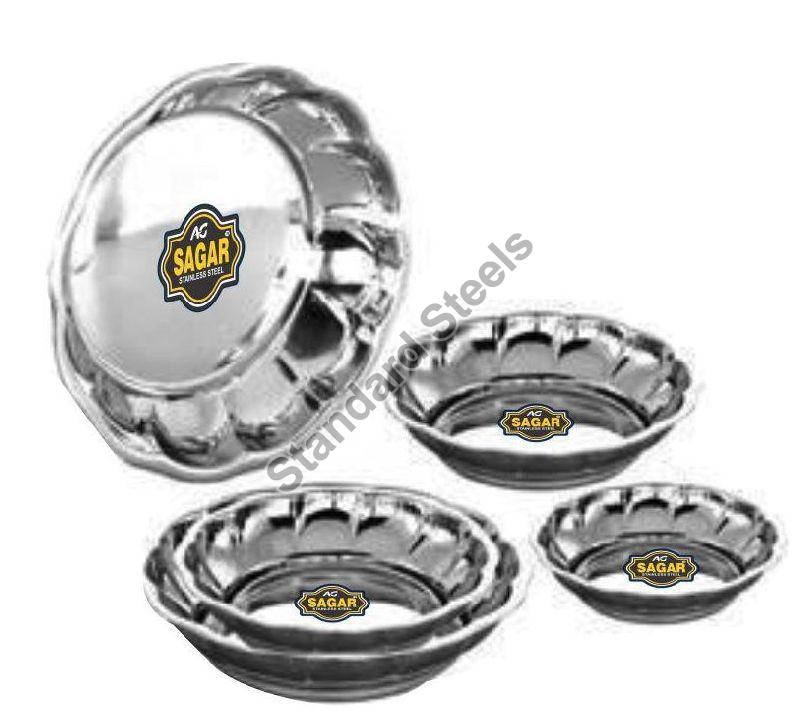 Parat, also known as a high-hipped platter, is the most commonly used stainless steel utensil in every Indian kitchen for food preparations such as kneading dough, mixing rice or salad, and serving food as well as for storage purposes. These parats have been in use for everyday purposes by most people as they still prefer to use stainless steel parats due to their ease of handling. The fine edges of the parat prevent any food spillage and the strong and sturdy material makes the parat crack-proof.
Indians are known for celebrating their auspicious occasions like weddings, Diwali puja, or any other with beautiful decorations, mouth-watering food, and return gifts. Plain Parat is also used during many auspicious Hindu ceremonies, especially during weddings while performing puja and even for gifting purposes. This wedding plain Parat is a big round deep plate with high side rims; made up of heavy grade stainless steel. You can make this plain parat quite useful in your puja room
Attributes of plain parat from a reputable wedding plain parat manufacturer-
-Unbreakable
-Highly durable
-Easy to use and clean
-Multipurpose utility
-Rust free
-Fine mirror finished
-Good strength
-Lightweight
This compact size wedding plain parat has an elegant finish with an innovative design to add a touch of elegance to your kitchen. It is an essential utility which can be easily used for various purposes in your day-to-day life. The demand for wedding plain parat made from genuine stainless steel is continuously increasing because of its excellent durability. The taste of the food served or stored in these parats not only remains the same but tastes better than in plastic containers. The surface of the wedding plain parat is easily renewed every time it is scrubbed. In India, there are many suppliers of wedding plain parat but you must choose a leading wedding plain parat supplier to get the best quality products.
The manufacturers and suppliers of wedding plain parat like standardsteels.in take into account the following crucial aspects-
-They are well equipped with a sound and advanced technology manufacturing unit to carry out the designing of an exclusive range of plain parat.
-The wedding plain Parat offered by them is made from 100 % Stainless Steel material to deliver supreme quality products to the customers.
-They have a separate team of quality controllers along with stringent quality testing facilities to achieve maximum satisfaction for their clients by providing standard quality products.
-They have a wide distribution network that helps them in catering to the different requirements of the customers based in different regions.
-This wedding plain parat manufacturer follows the industry norms and safety standards of stainless steel products.
-They offer an exclusive range of wedding plain parat at reasonable prices.
Conclusion
Thus, it can be stated that the range offered by wedding plain parat suppliers is the best investment you can make for your kitchen and puja room. This perfect combination of sturdiness and functionality will enhance the overall aesthetics of the place.